School everyday
Relay for Life 26-27 March 2022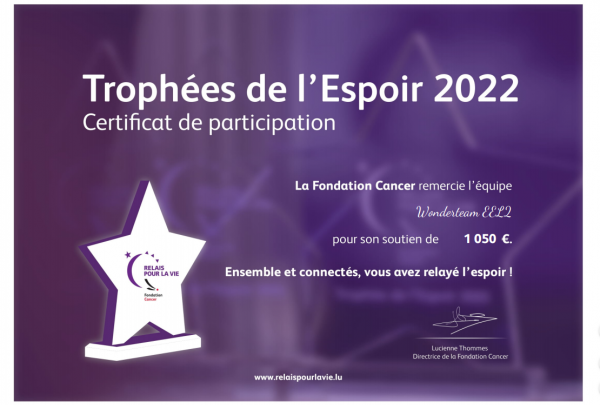 This event, organised by the Cancer Foundation, aims to raise funds to support research projects, the actions of the Cancer Foundation for patients and their families, as well as prevention campaigns to reduce the number of cancer cases.
Cancer accompanies patients night and day and it is in this spirit that the Relay for Life was imagined: 24 hours to show support for patients with or survivors of cancer.
For 24 hours, registered teams challenge each other online. Participants are free to walk, run or cycle at their own pace with the aim of each team achieving a total of 24 hours.
We all want a world without cancer and that's why the WONDERTEAM EEL2, made up of students, staff and teachers, has been registered. This is the third year that our team has represented the school at this solidarity weekend.
In order to raise funds and make a donation, the CANCER DAY was organised. During this day, chocolate strawberry skewers were sold and the school community was invited to wear something orange, the colour symbolising the fight against cancer.
Results: 1050 euros of donations for the Cancer Foundation were collected and our team accumulated 37h42 of walking and running.
Because cancer is not confined, because research is essential, and because hope must continue to shine...

Today more than ever, our mobilization is essential: patients and their relatives need our support.